What is Chronic Venous Disease?
Chronic Venous Disease (CVD) refers to chronic conditions related to or caused by veins that become diseased or abnormal and do not work effectively.
Valves become inefficient. It becomes difficult for blood to pass through the vein walls and to flow back to the heart.
Healthy valves close after blood passage: there is no venous stasis.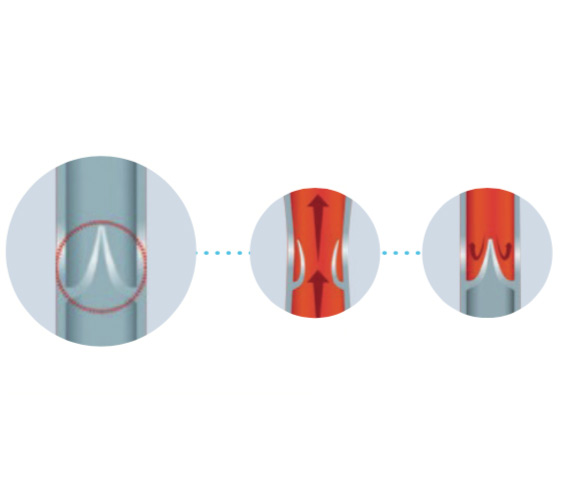 Abnormal valves do not close anymore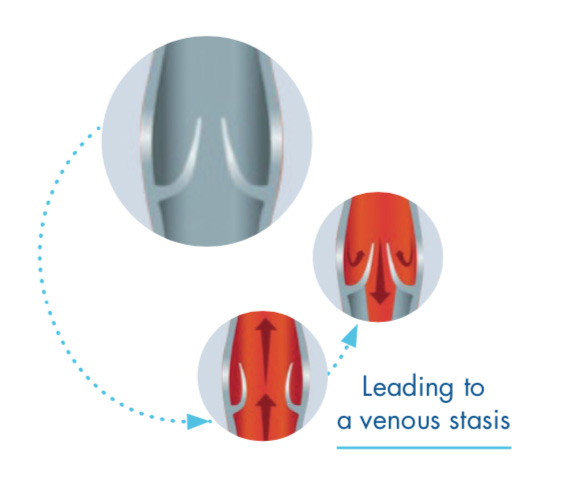 What are the symptoms experienced by patients?
The symptoms felt by the patient are the leading cause of consultation in vascular medicine and can be experienced in the early disease.
Feeling of heaviness in the legs

Pain in the legs
Feeling of swelling in the legs

Night cramps
There may be other symptoms such as:
Sensation of 'pins and needles' in the legs

Sensation of burning in the legs

Sensation of tightness in the legs
Itching with or without visible cutaneous lesion in the legs

Feeling of tiredness

Restless legs
Symptoms are most commonly felt in the calves and tend to increase as:(1, 2, 3)
The day goes on and during hot weather
After prolonged sitting/standing position
At the end of the day and/or during night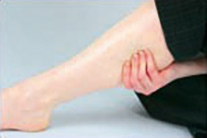 These symptoms might be due to other conditions than venous disease. On the other hand, the absence of symptoms doesn't exclude a venous disease.
What are the main risk factors?
The main risk factors of developing Chronic Venous Disease are: (4, 5, 6)
Age (veins do not contract as easily as we get older)

Family history of chronic venous insufficiency

Pregnancy & number of pregnancies

Sedentary lifestyle
Prolonged sitting/standing position

Thromboembolic disorders

Obesity/overweight

High heel shoes
How is Chronic Venous Disease diagnosed?
A diagnosis is made by combining the visual examination of the legs (CEAP classification) and symptoms felt by the patient.
In addition, it is necessary for the doctor to perform a Doppler or Duplex Ultrasound in order to determine if there is a reflux and/or an obstruction in veins and how severe it is.(7)

The CEAP classification (Clinical-Etiology-Anatomy-Pathophysiology) is used to classify chronic venous disorders, which are heterogenous among patients. The Clinical part is divided from C0 (no clinical sign) to C6 (open ulcer) according the severity of the disease. (8)
Examining your legs, try to know in which category you are:

What may be the ultimate complications of the disease?
Situation leading to a venous stasis are most at risk of developing a venous thrombosis, which may be of very serious concern.(9)
Deep vein thrombosis is the formation or presence of a thrombus in the deep veins. It occurs mostly in the lower extremities. It can cause serious injuries of the legs, including limb swelling, pain, discoloration, itching, and ulcer formation.
Even more dramatic, when the thrombus moves from deep veins of the legs until pulmonary artery or its branches, it can cause an obstruction of the artery, called a Pulmonary embolism. It is a major cause of mortality worldwide.

Prevention of Deep Venous thrombosis thereby decreases the incidence of Pulmonary Embolism.
What are the different treatment methods?
The Chronic Venous Disease therapy should be either systemic, or local. In addition, venotonics and elastic compression (or compression therapy) occupies not the last place in it.
Before starting any treatment, it is essential to consult your doctor or pharmacist for advice.

PHLEBOTONIC DRUGS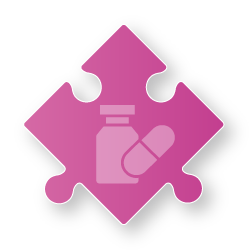 Phlebotonic drugs comprise a heterogenous group of drugs, some of which are synthetic whereas most are of plant origin. Although the mode of action of these drugs is not fully understood, it seems clear that products can act at both the microcirculation and Macrocirculation levels, improving the venous tone. Most of them have shown anti-inflammatory effects, and flavonoids have also shown anti-oxidant properties.
Diosmin, coumarin, horse chestnut seed extract, gingko extracts, calcium dobesilate, are among the most widely prescribed products to help relieving pain, heavy legs and other functional symptoms.(7)
COMPRESSION STOCKINGS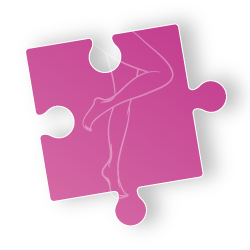 Compression stockings apply pressure to the legs, reducing venous reflux and helping blood to come back to the heart. The pressure to be used depends on the stage of the disease. They decrease functional signs (pain, heavy legs etc.) and have a significant effect on the patient quality of life. They are also essential at the latest stages of the disease, in case of oedema and skin damages.
Compression stocking are available in different formats and they can be used in pregnancy.
As an alternative to compression stockings, bandages can also be used.(7)
VARICOSE VEINS REMOVALS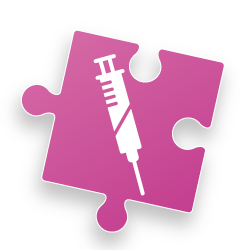 Until recently, the traditional vein ligations with or without stripping has been the gold standard for varicose veins treatment. Although surgery provides good outcomes, it is associated with adverse effects (such as ecchymosis, hematoma, tenderness, infection, etc.).
Less invasive treatments are available:
Sclerotherapy (sclerosing agent is introduced in the vein, inducing damages of the varicose vein, which tend to disappear after fibrosis).
Endovenous laser ablation (EVLA) and radio-frequency ablation (RFA), and other treatments have also been developed as alternative to sclerotherapy and surgery.(13)
References:
1. Benigni JP et al. Venous symptoms in C0 and C1 patients: UIP consensus document. Int Angiol. Vol. 32. N°3. 2013, p261-265.
2. Guex JJ et al. The "C0s" patient: worldwide results from the Vein Consult Program. Phlebolymphology. Vol 19. N°4. 2012, p182-192.
3. Perrin MR. Description and definition of venous symptoms in chronic venous disorders: a review. Medicographia. Vol 37, N°1. 2015, p10-15.
4. Tedeschi Filho, Wagner, Nei R. A. Dezzotti, Edvaldo E. Joviliano, Takachi Moriya, and Carlos Eli Piccinato. 'Influence of High-Heeled Shoes on Venous Function in Young Women'. Journal of Vascular Surgery 56, no. 4 (October 2012): 1039–44.
5. Vuylsteke, M. E., S. Thomis, G. Guillaume, M. L. Modliszewski, N. Weides, and I. Staelens. 'Epidemiological Study on Chronic Venous Disease in Belgium and Luxembourg: Prevalence, Risk Factors, and Symptomatology'. European Journal of Vascular and Endovascular Surgery: The Official Journal of the European Society for Vascular Surgery 49, no. 4 (April 2015): 432–39.
6. Wittens, C., A. H. Davies, N. Bækgaard, R. Broholm, A. Cavezzi, S. Chastanet, M. de Wolf, et al. 'Editor's Choice - Management of Chronic Venous Disease: Clinical Practice Guidelines of the European Society for Vascular Surgery (ESVS)'. European Journal of Vascular and Endovascular Surgery: The Official Journal of the European Society for Vascular Surgery 49, no. 6 (June 2015): 678–737.
7. Nicolaides, Andrew N., and Nicos Labropoulos. 'Burden and Suffering in Chronic Venous Disease'. Advances in Therapy 36, no. Suppl 1 (March 2019): 1–4.
8. Eklöf et al. Revision of the CEAP classification for chronic venous disorders: Consensus statement. From the American Venous Forum. Journal of Vascular Surgery. Vol 40, N°6. p1248-1252.
9. Badireddy, Madhu, and Vasudeva Ranjit Mudipalli. 'Deep Venous Thrombosis (DVT) Prophylaxis'. In StatPearls. Treasure Island (FL): StatPearls Publishing, 2019. http://www.ncbi.nlm.nih.gov/books/NBK534865/.
10. Rabe, E., J. J. Guex, A. Puskas, A. Scuderi, F. Fernandez Quesada, and VCP Coordinators. 'Epidemiology of Chronic Venous Disorders in Geographically Diverse Populations: Results from the Vein Consult Program'. International Angiology: A Journal of the International Union of Angiology 31, no. 2 (April 2012): 105–15.
11. Ismail, Lars, Pasha Normahani, Nigel J. Standfield, and Usman Jaffer. 'A Systematic Review and Meta-Analysis of the Risk for Development of Varicose Veins in Women with a History of Pregnancy'. Journal of Vascular Surgery. Venous and Lymphatic Disorders 4, no. 4 (2016): 518-524.e1. https://doi.org/10.1016/j.jvsv.2016.06.003.
12. James, Andra H. 'Venous Thromboembolism in Pregnancy'. Arteriosclerosis, Thrombosis, and Vascular Biology 29, no. 3 (March 2009): 326–31. https://doi.org/10.1161/ ATVBAHA.109.184127.
13. Belramman, Amjad, Roshan Bootun, Tristan R. A. Lane, and Alun H. Davies. 'Endovenous Management of Varicose Veins'. Angiology 70, no. 5 (May 2019): 388–96. https://doi.org/10.1177/0003319718780049.